Eneloop
Regular price
Rs. 1,164.00
Regular price
Rs. 1,400.00
Sale price
Rs. 1,164.00
Unit price
per
Sale
Sold out
In stock
30 Days Easy Return

Free Delivery

1 Year Brand Warranty
Eneloop Pro combines the performance and convenience of dry batteries with the eco-friendly efficiency of rechargeable batteries. Every time you reuse Eneloop Pro, you're not just saving money. You're also helping to protect our planet.
The best of both worlds

The only high-capacity battery that professionals need
It's black, it's bold, it's beautiful. eneloop pro is the high-capacity battery professionals trust when equipment failure is not an option. With a huge capacity of min. 2500/2450 mAh* for lasting power in high-drain devices, stable voltage performance, and quality that exceeds the highest standards of Japanese craftsmanship, eneloop pro is the first choice of professionals working in the field.
Longer life, trusted reliability
If you're in the middle of a job, the last thing you need is to mess around with batteries. eneloop pro has a deeper reserve of power with about 28%* more capacity than eneloop. Even the best alkaline batteries can't compete. They not only lack the capacity, but their voltage can drop below what your gear needs to function. By contrast, eneloop pro and eneloop maintain stable voltage right up until battery depletion. Your equipment works for longer, and you save with every charge.
Faster flash charging and longer life
External camera flashes need a lot of power, and it takes time for their capacitors to refill before you can continue shooting. That delay could make you miss the shot of a lifetime. eneloop pro charges your flash much faster than other batteries, with a recovery time of just 3.3 seconds compared to 76 seconds for a standard alkaline battery. That's why photographers swear by the power of eneloop pro.
Lasting power in a wide temperature range
Your eneloop pro batteries maintain excellent discharge performance even when used in heat and cold. The batteries are rated for use in temperatures between -20 °C and 50 °C, which is great if your work takes you into the great outdoors.
Pre-charged with solar energy and ready to use
Before eneloop pro batteries are shipped, they're charged with solar energy at the factory as part of our participation in the Green Certificate system and the Panasonic Environment Vision 2050 initiative, where our company aims to generate more energy than we use by 2050. Of course, pre-charging means you can use it immediately after purchase.
Retains 85%* after one year
We've improved the metal-hydride alloy lattice inside your eneloop pro battery so that it retains 85%* capacity even after one year in storage. The design also resists voltage drop during discharge and minimizes loss of capacity. Once charged, you can trust eneloop pro to work just like a dry battery.
Recharge up to 500 times*
Every time you reuse eneloop pro, you're saving on the cost of replacement dry batteries and reducing waste. Your investment pays for itself over the life of the product, and you'll feel great about doing your part for the earth.
Works in a variety of devices
While eneloop pro has a slightly lower voltage than equivalent dry batteries, it works better in almost any device where standard batteries are used. From low-drain applications in computer mouses to high-drain equipment such as camera flashes, its high capacity and stable discharge voltage will power your gear for longer than most single-use alternatives.
Recharge anytime you want
Unique battery and charger technology suppresses the memory effect in eneloop pro batteries, which means you can top them up anytime without reducing their capacity. To avoid the memory effect with other rechargeable batteries, you may have to run them flat before you can recharge, which isn't always practical. With eneloop pro, you can recharge whenever you want without worrying about reduced battery life.
Made in Japan
Your eneloop pro is designed, manufactured, and tested in Japan to rigorous quality control standards and is available in about 70 countries* around the world. Use with the confidence that comes from products made to the highest standards of Japanese craftsmanship.
Eneloop Pro 2550 mAh High Capacity Ready to use AA Rechargeable Battery
View full details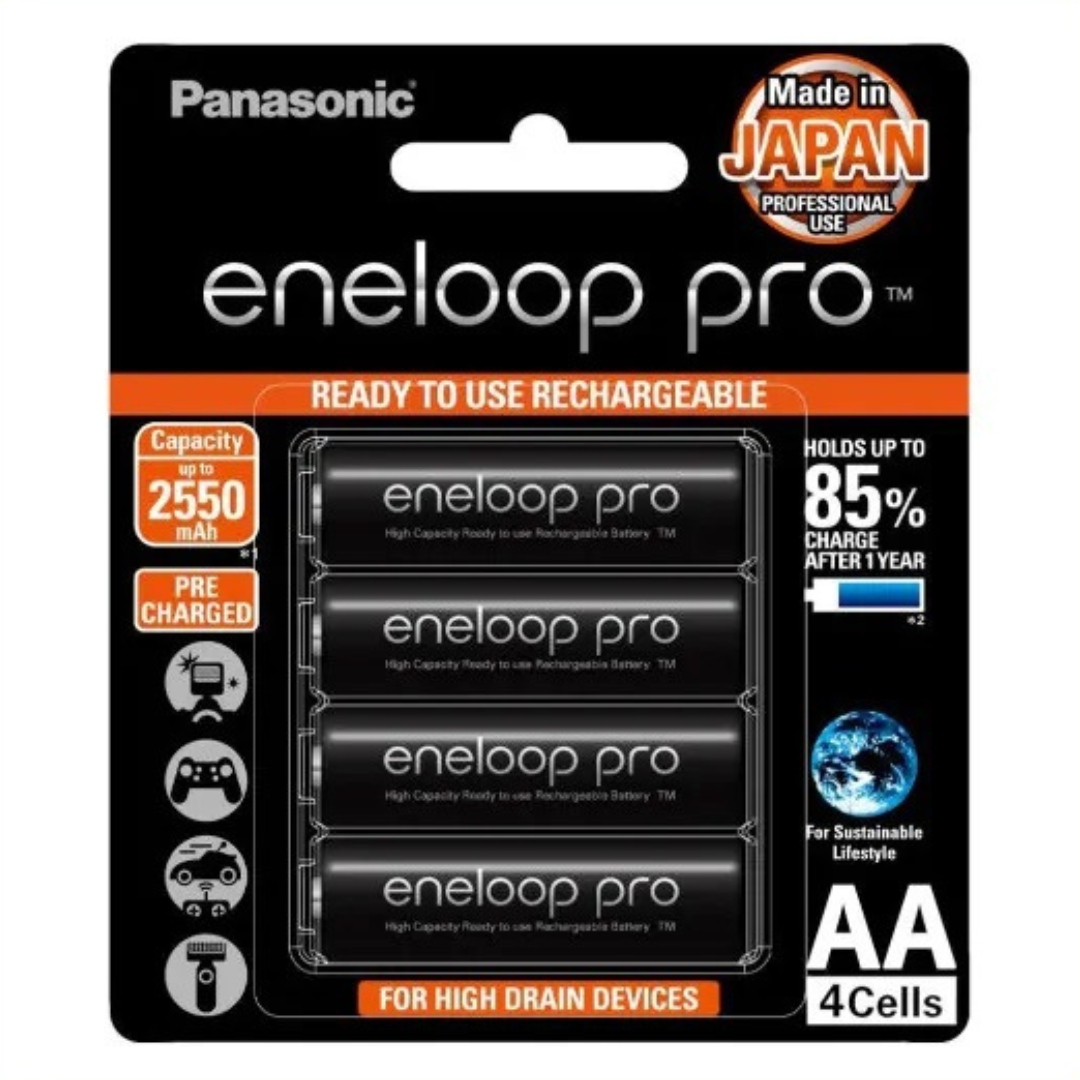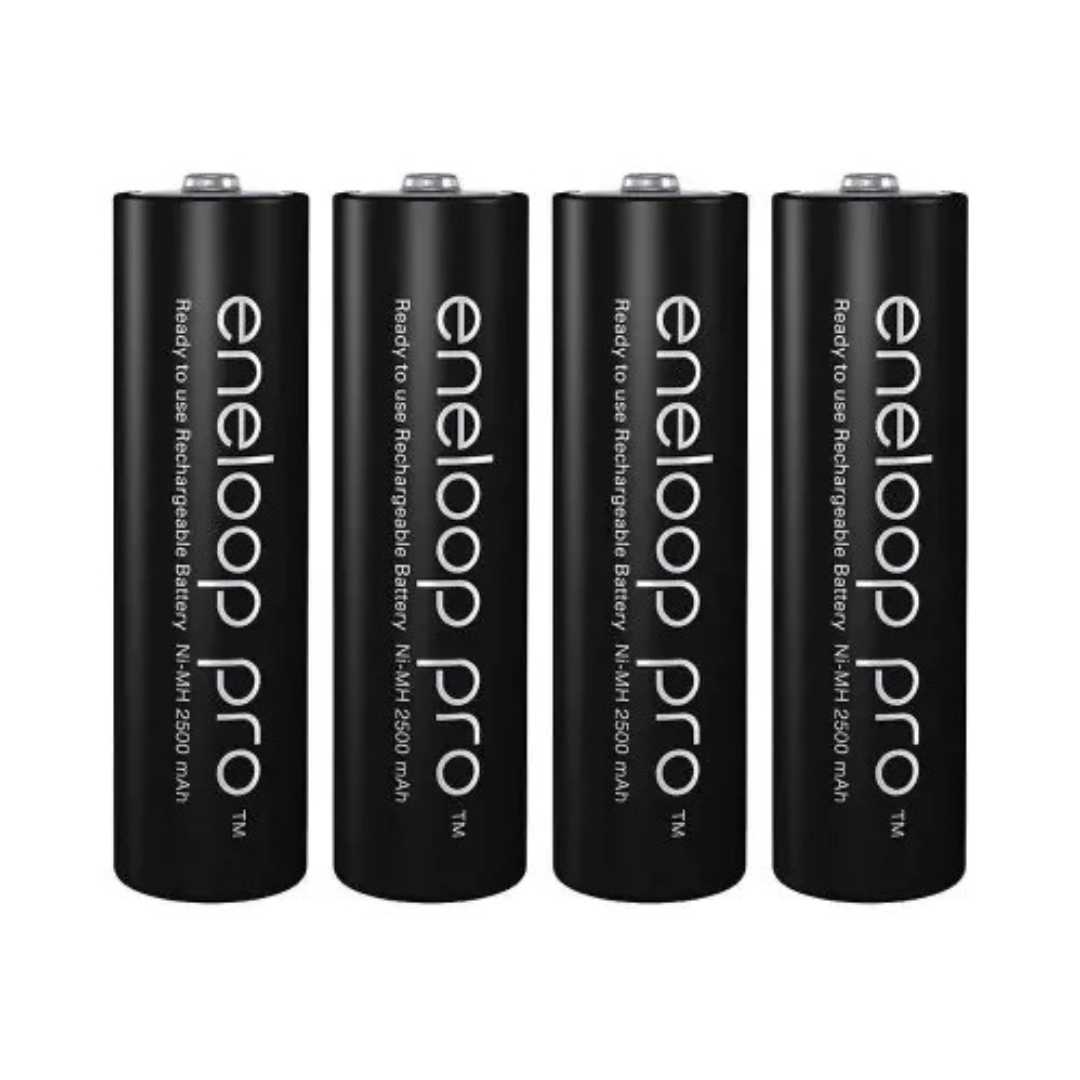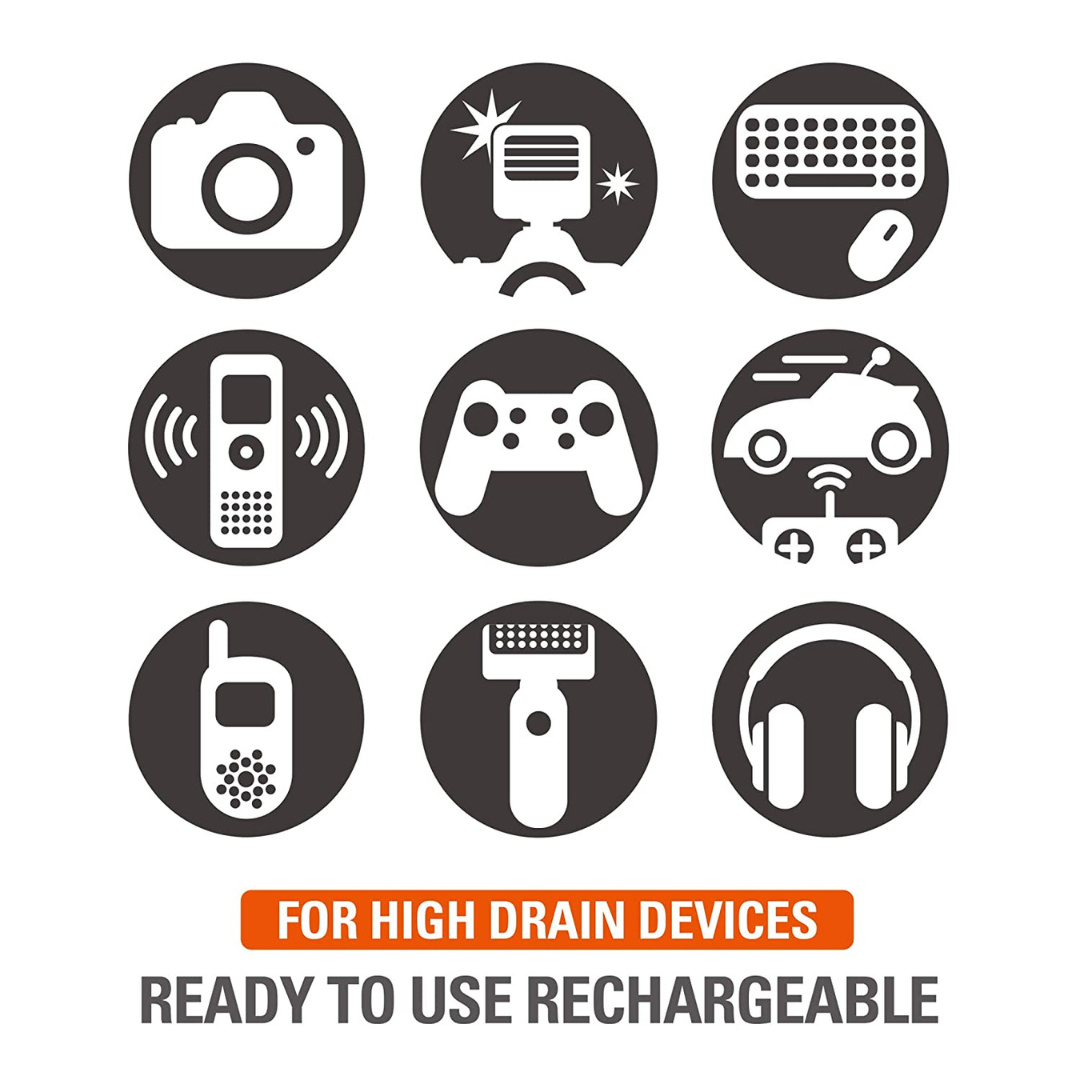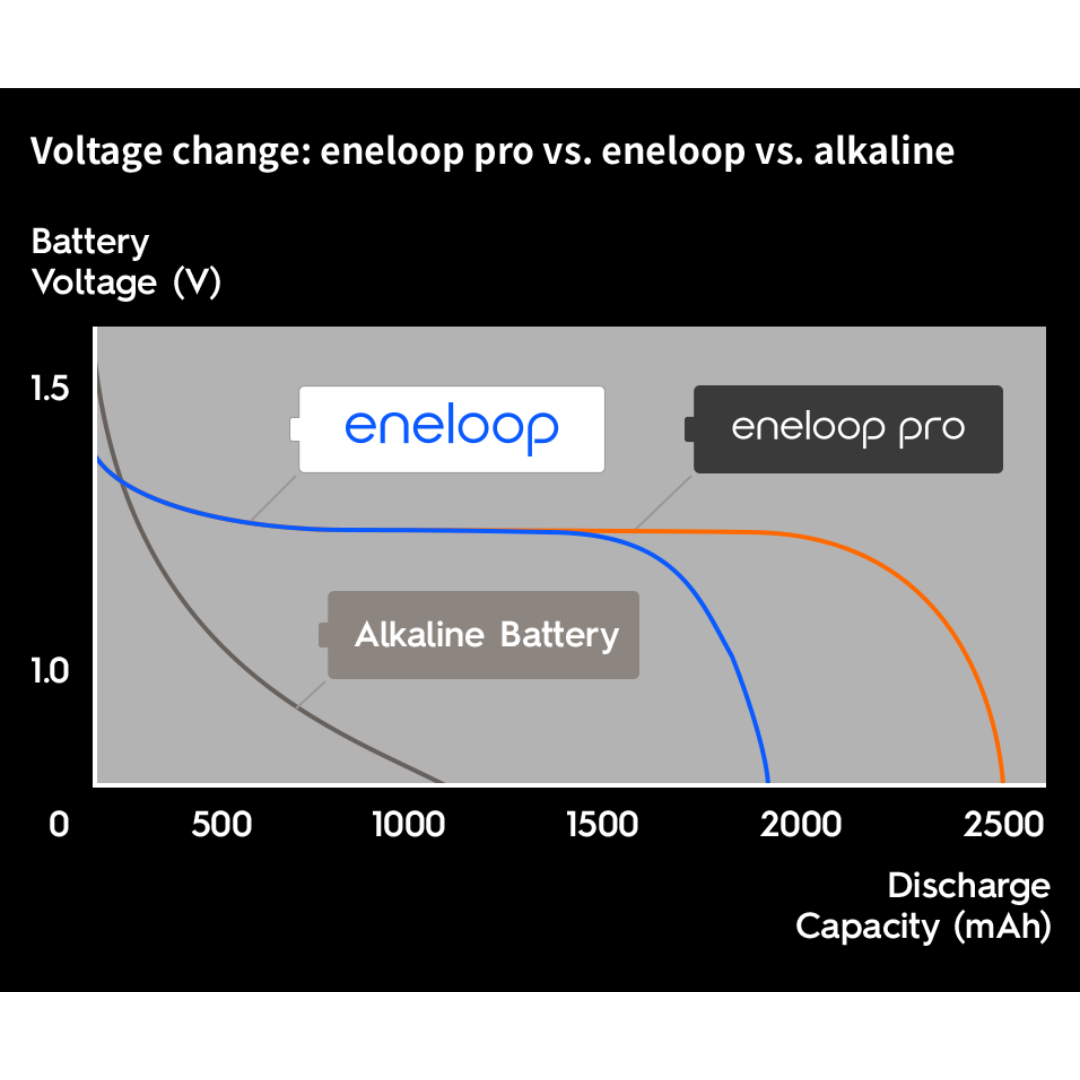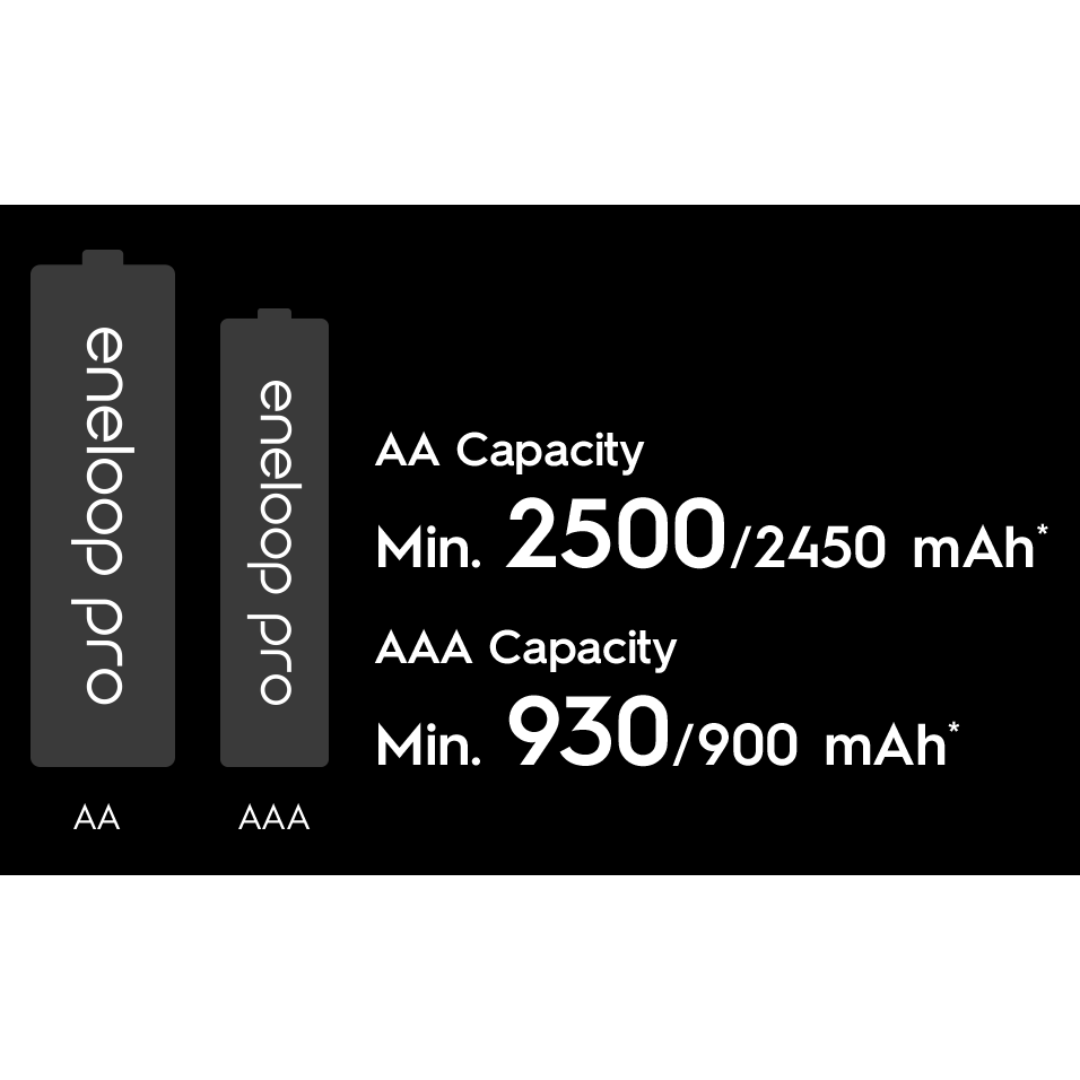 Why buy from abuggy.com
Quality Assurance

We strive to continuously improve our standards to ensure that our customers receive nothing but the best. Trust us to deliver excellence and exceed your expectations.

Exclusive Offers

Our exclusive offers are updated regularly, so there's always something new to discover. Shop with us and take advantage of our exclusive offers to get more of what you love for less.

Fast and Free Shipping

Enjoy fast and free shipping on all orders, no matter how big or small. With our reliable shipping options, you can get your favorite products delivered straight to your doorstep in no time!