Eneloop
Regular price
Rs. 680.00
Sale price
Rs. 680.00
Unit price
per
Sale
Sold out
In stock
30 Days Easy Return

Free Delivery

1 Year Brand Warranty

DC 5 V USB input lets you charge on the go
Weighing just 65 grams, BQ-CC61 makes an ideal traveling companion thanks to DC 5 V USB input. You can use your laptop's USB port, a portable power bank, your phone's AC adapter, or the DC 5 V outlet in your car or airplane seat to charge your eneloop batteries. Since there always seem to be more devices to charge than AC outlets, being able to charge eneloop and your other devices with an aftermarket multi-port AC adapter is handy, especially when you travel.
Basic charger with LED indicators
If you mostly use your AA/AAA eneloop or eneloop pro batteries in low-drain devices that don't require frequent charging, BQ-CC61 is a solution with excellent cost performance. LEDs for each pair of slots light green while charging and switch off after a fixed 10-hour period, enough time for the inserted batteries to fully charge.
Battery checker with LED indicators
The charger checks if the installed batteries can be charged. If a battery is inserted incorrectly or a dry battery is installed, the light above the affected pair of slots flashes green, and the power supply to those slots is shut off for safety.

Supported battery combinations
You can recharge up to four AA/AAA eneloop batteries at the same time in the following combinations: 2x AA, 4x AA, 2x AAA, 4x AAA, or 2x AA and 2x AAA. The LEDs light green while charging and switch off after a fixed 10-hour period.
Using your battery charger
Step 1
Insert the batteries into the slots according to the indicated polarity (+/-). When inserting a battery, you should fit the battery's negative terminal end first and then gently press the top of the battery into the slot. Pull out the positive terminal end first when removing the battery.
Step 2
Connect the charger to a USB power adapter via the supplied USB charging cable, and plug the adapter into an AC 100–240 V outlet. You can also connect the charger to a device with a DC 5 V USB output terminal, such as a laptop computer.
Step 3
The light above each pair of slots turns solid green to indicate that the installed batteries are being charged. If an invalid battery is inserted or a battery is installed incorrectly, the light above the affected pair of slots flashes green, and power to those slots is shut down to prevent damage to the batteries and charger.
Step 4
The charger is equipped with a safety timer that shuts off power to all slots after 10 hours. The lights switch off when this period has elapsed. However, the charging times in the nearby table are recommended to extend battery life.
Step 5
Disconnect the charging cable and USB power adapter from the AC outlet, or remove the charging cable from your device's DC 5 V USB port, and disconnect the cable from the charger. Remove the batteries as soon as possible after charging.
Eneloop BQ-CC61 Portable Charger for AA & AAA Rechargeable Batteries with USB Cable
View full details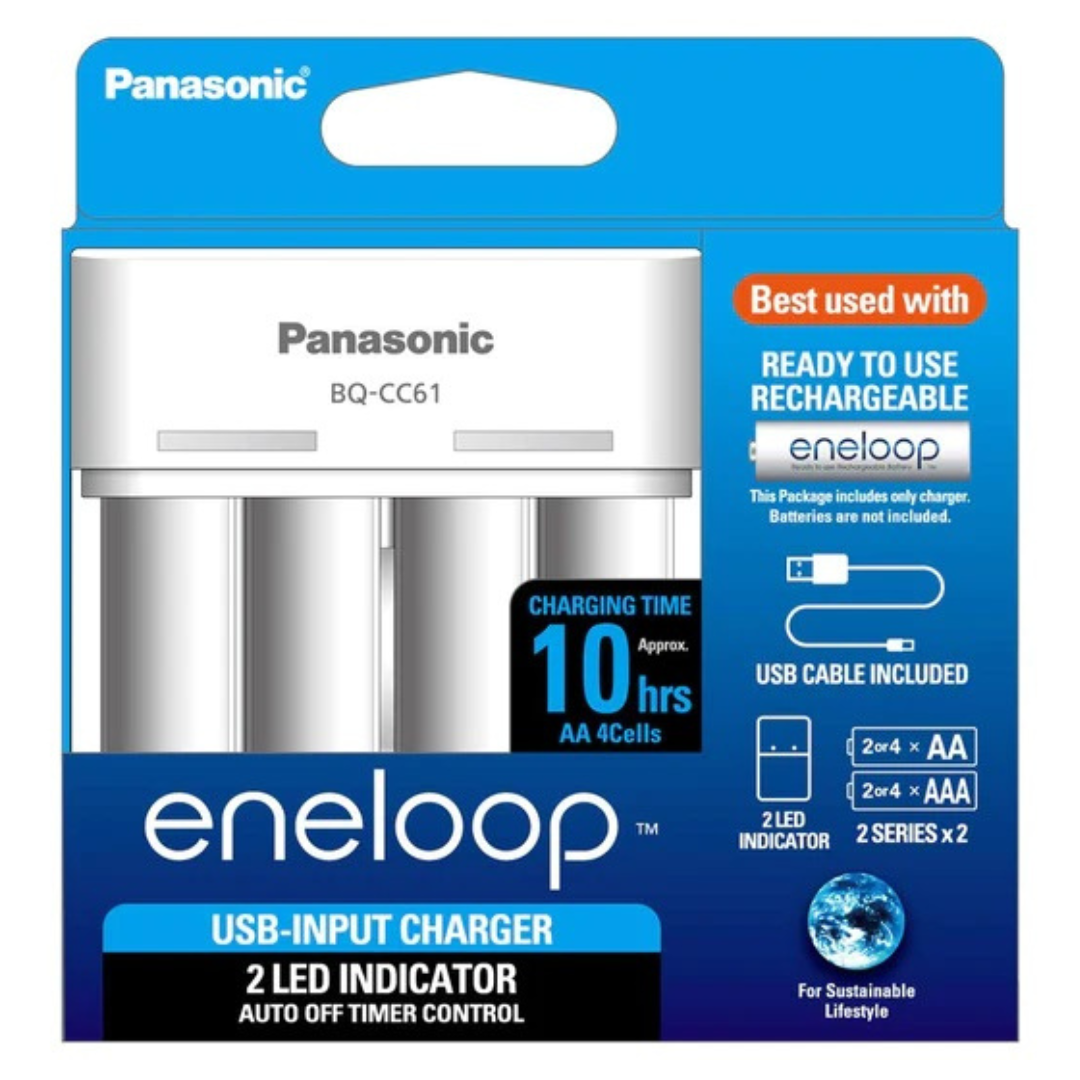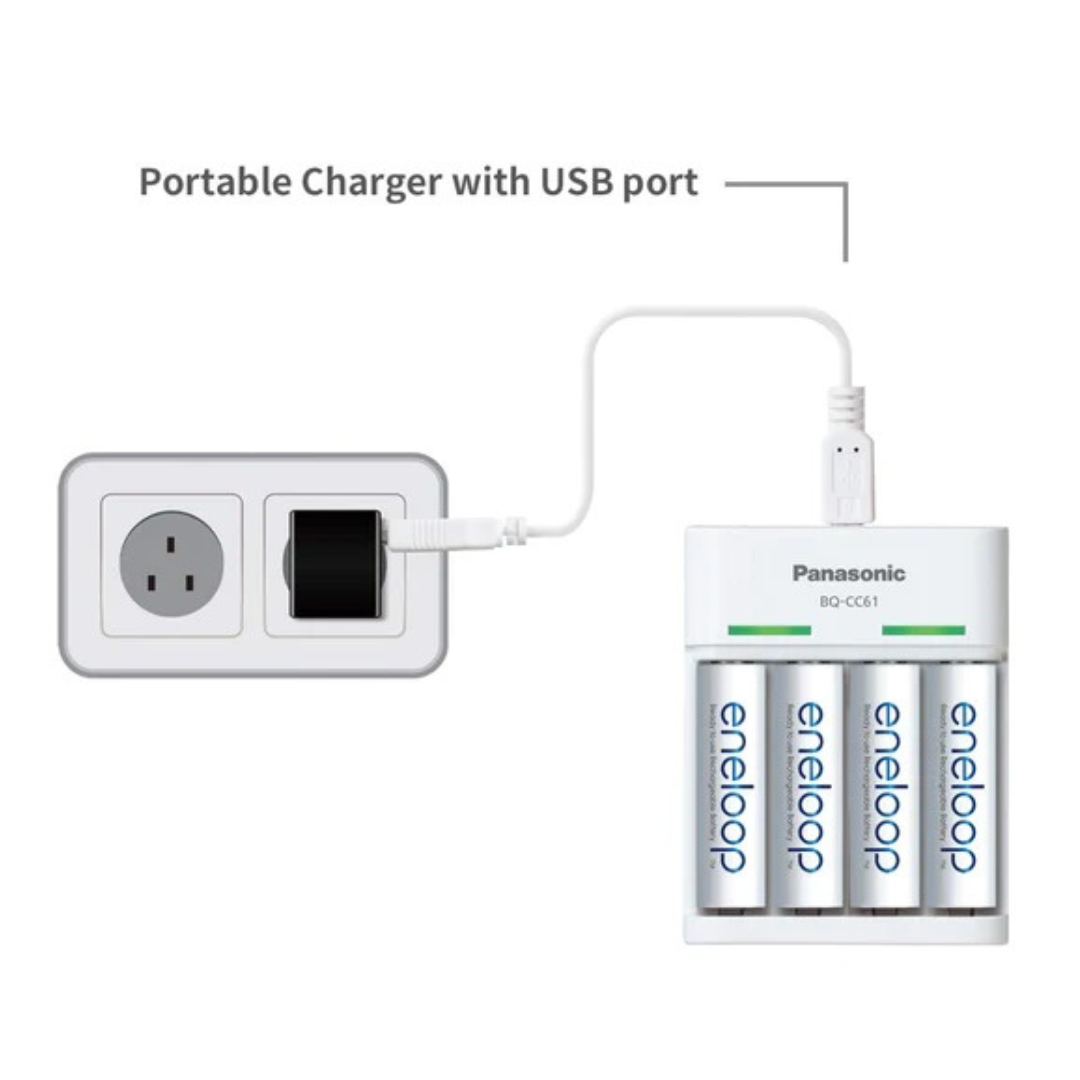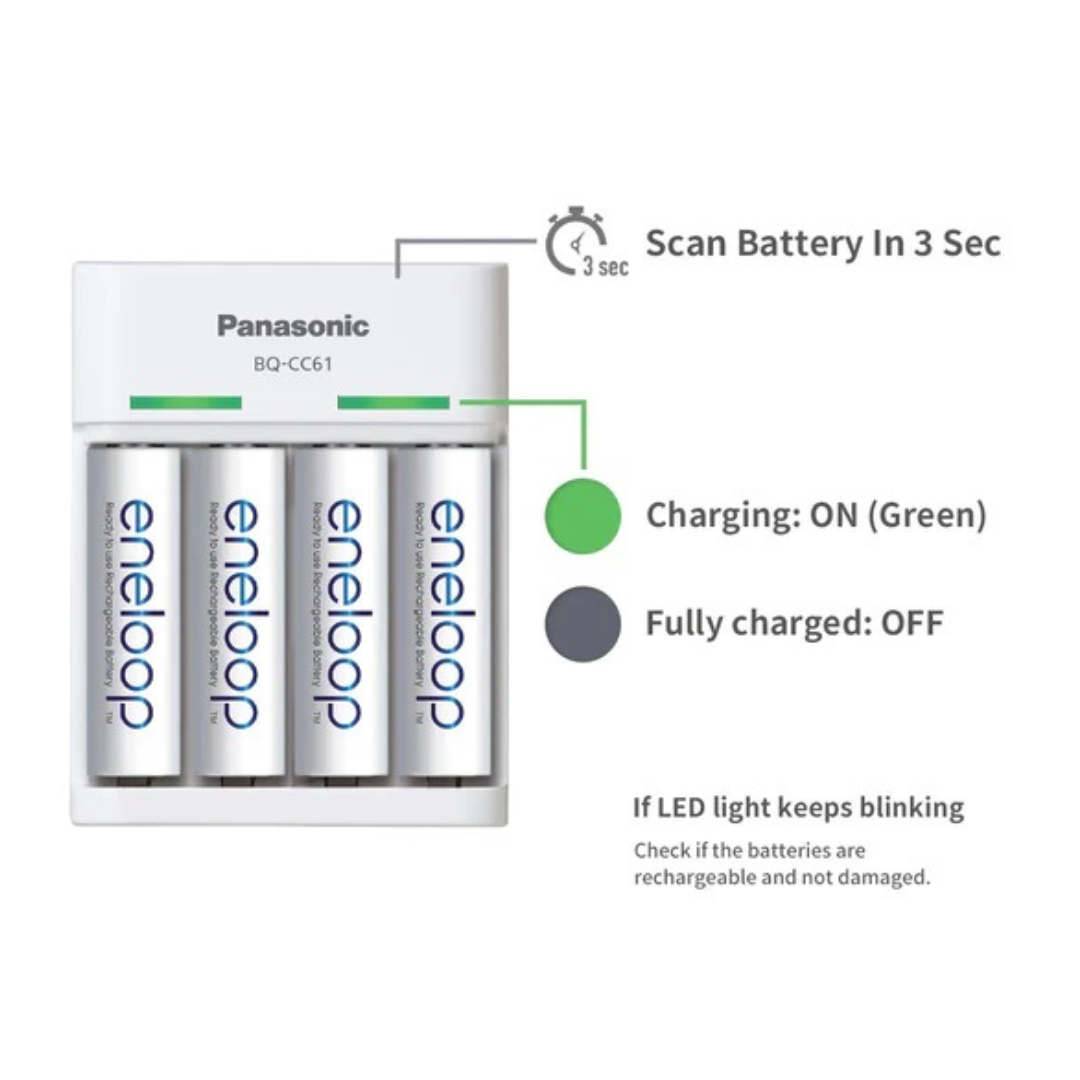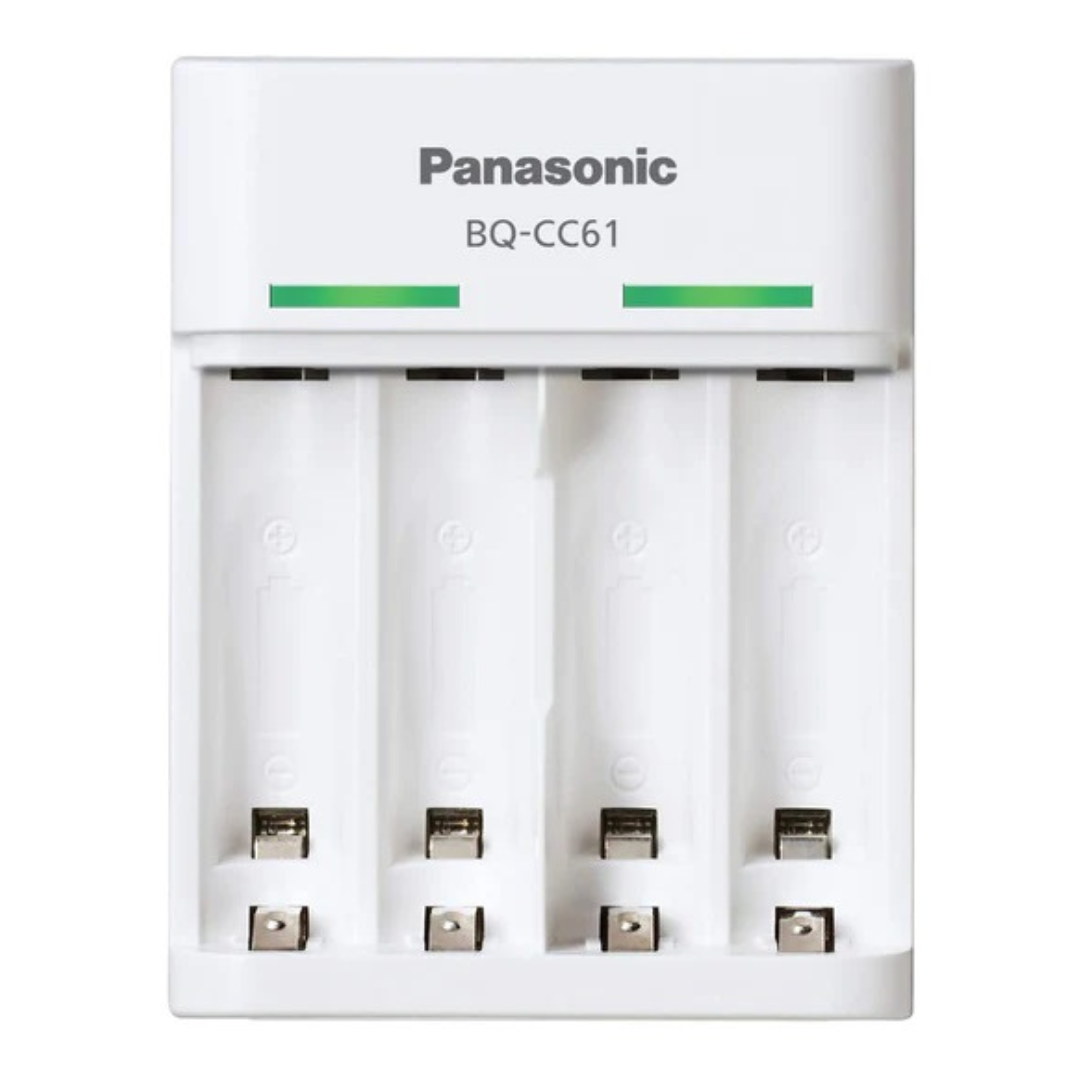 Why buy from abuggy.com
Quality Assurance

We strive to continuously improve our standards to ensure that our customers receive nothing but the best. Trust us to deliver excellence and exceed your expectations.

Exclusive Offers

Our exclusive offers are updated regularly, so there's always something new to discover. Shop with us and take advantage of our exclusive offers to get more of what you love for less.

Fast and Free Shipping

Enjoy fast and free shipping on all orders, no matter how big or small. With our reliable shipping options, you can get your favorite products delivered straight to your doorstep in no time!