Eneloop
Regular price
Rs. 1,400.00
Regular price
Rs. 1,500.00
Sale price
Rs. 1,400.00
Unit price
per
Sale
Sold out
❤️ Offers

💵 COD Available

🛡️Free 1 Year Extended Warranty
In stock
30 Days Easy Return

Free Delivery

1 Year Brand Warranty
Individual Charge Control and Smart Charge
BQ-CC55 features Individual Charge Control technology. It can individually charge one, two, three, or four eneloop or eneloop pro batteries in AA/AAA sizes in any combination. Smart Charge detects when each individual battery is fully charged and shuts off power to that slot before battery overflow, protecting and extending battery life. It is also extremely fast: you can recharge two AA-size eneloop batteries in just 90 minutes.
LEDs show remaining capacity and charging progress
BQ-CC55 measures the voltage of each individual battery to estimate its remaining charge. Four separate 3-color LEDs indicate this information to give you an idea of each battery's charging progress. A red light means the battery is 20% or less charged, yellow means it is between 20% and 80% charged, and green means the battery is 80% or more charged. When the light turns off, the battery is fully charged and ready to use.
Battery checker with LED indicators
When a battery is nearing end of life, the light above its slot flashes yellow. Red flashes mean you've inserted a battery incorrectly or installed a dry battery by mistake (the safety system shuts off the power and prevents short circuits in both cases). If the light still flashes red after checking the above, it's time to replace the battery.
Supported battery combinations
Individual Charge Control allows you to recharge any combination of up to four AA/AAA eneloop and eneloop pro, even single batteries or a mix with different sizes and capacities.
Using your battery charger
Step 1
Insert the batteries into the slots according to the indicated polarity (+/-). When inserting a battery, you should fit the battery's negative terminal end first and then gently press the top of the battery into the slot. Pull out the positive terminal end first when removing the battery.
Step 2
Connect the charger to an AC outlet.
Step 3
The four LED indicators above the slots flash green from left to right for about three seconds while the charger checks the battery status. The remaining capacity of each installed battery is then separately indicated using three different colors (red: less than 20% charged, yellow: 20–80% charged, and green: more than 80% charged). If a battery is approaching the end of its life, the light above its slot flashes yellow. If an invalid battery is inserted or a battery is installed incorrectly, the light above its slot flashes red, and power to that slot is shut down to prevent damage to the battery and charger. If the battery is compatible and installed correctly, and the light flashes red, it has reached the end of its life and cannot be charged.
Step 4
When a battery is charged, the light above its slot turns off. Smart Charge detects its voltage and stops charging before overflow to protect and extend battery life.
Step 5
Disconnect the charger from the AC outlet and remove the batteries as soon as possible after charging.
Specification
Input: AC 100–240 V
Charging time: eneloop: Approx. 1.5 hours (1–2x AA), 3 hours (3–4x AA) / eneloop pro: Approx. 2 hours (1–2x AA), 4 hours (3–4x AA)
Indicator: 4-LED indicator (3 colors)
Compatibility: AA: 1 to 4 eneloop or eneloop pro batteries / AAA: 1 to 4 eneloop or eneloop pro batteries
Charge control: Individual Charge Control (Individually charges any combination of 1–4x AA/AAA batteries)
Safety charge: Smart Charge (Detects battery voltage and stops charging before overflow)
Input voltage detection: Auto Voltage (AC 100–240 V, use anywhere in the world)
Dimensions: 68 (W) x 120 (L) x 28 (H) mm
Weight: 120 g
View full details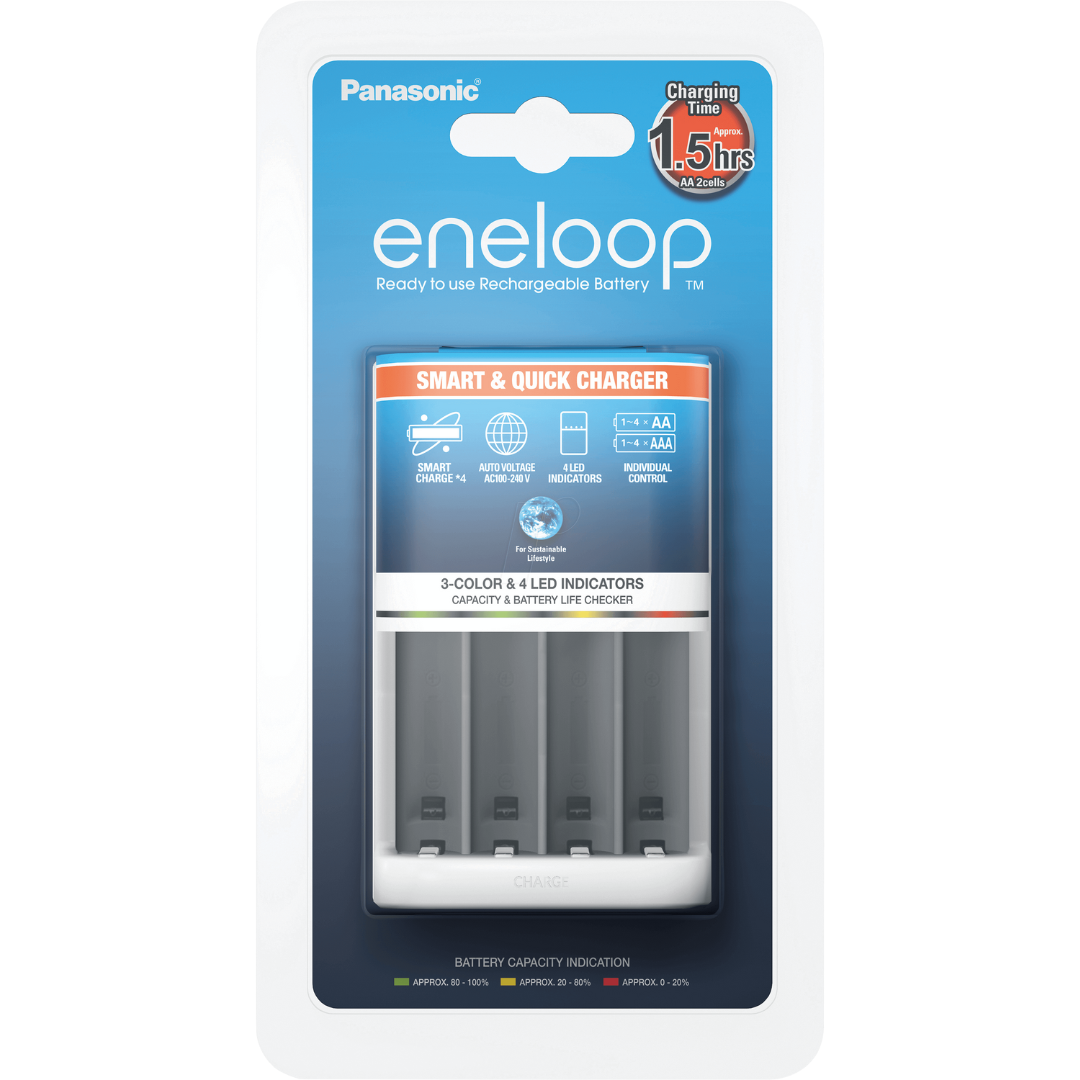 Why buy from abuggy.com
Quality Assurance

We strive to continuously improve our standards to ensure that our customers receive nothing but the best. Trust us to deliver excellence and exceed your expectations.

Exclusive Offers

Our exclusive offers are updated regularly, so there's always something new to discover. Shop with us and take advantage of our exclusive offers to get more of what you love for less.

Fast and Free Shipping

Enjoy fast and free shipping on all orders, no matter how big or small. With our reliable shipping options, you can get your favorite products delivered straight to your doorstep in no time!